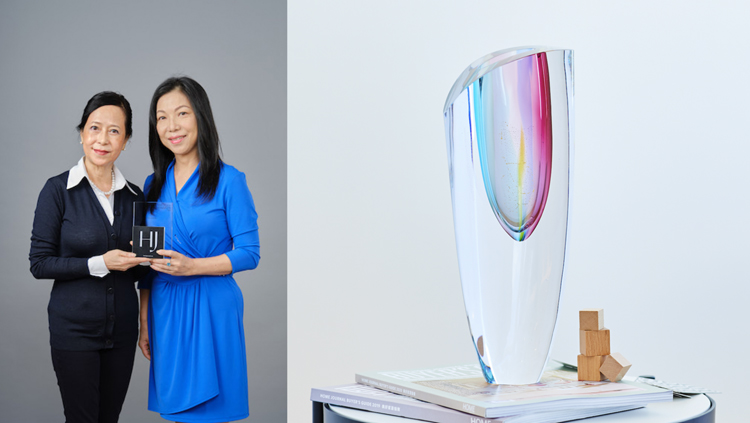 For four decades, Home Journal has been one of the preeminent voices in bilingual media in Asia, showcasing the best of design, homes and interiors in their print and digital publications. Each year, they recognize the best companies and brands in different categories, from furniture to lighting, kitchen design, retail spaces, and more. We're honored to be recognized for this award, especially as a small company. Our Managing Director Eveline Ko, and General Manager Jessica Lee, accepted the award earlier this month in Hong Kong. Congratulations to all of the other winners!
Read about the award and the other 2021 winners here.
Here's the English transcript of the video:
AEfolio HJ award video transcript – translated to English
Presenter:
They say, 'luxury is in the details;' never underestimate the value that a piece of decor can have in your home.
Our next brand award winner uses vibrant colors in their glass and ceramic designs to lend different styles of interiors a finishing touch.
Congratulations, AEfolio!
AEfolio is a home decor brand based in Hong Kong and the United States. They offer a range of colorful handblown glass objects, handcrafted ceramics, and lighting options.
Eveline:
All of the raw materials in our glass are imported from the United States and Europe to our Shanghai workshop.
One of the selling points is that we choose the best raw materials to import, so the character and quality of the materials is very high quality. In general, the most important thing about glass is it's clarity; because our raw materials are imported, our finished products are comparable to crystal.
Glass and ceramic are part of the same family, both are easy to break. The unique feature of glass is that it becomes more beautiful with light, and light is more beautiful through glass. For ceramics, you can put it in different areas of the home – in dim areas or bright areas – and it'll create a different impression.
For the home environment and interior design, I think glass and ceramic are a wonderful complement.